Composition:

- Each tablet contains: Triphala [combination of Amalaki fruit (Emblica officinalis), Bibhitaki fruit (Terminalia bellerica), Haritaki fruit (Terminalia chebula)] – 250 mg

Good to Know:

- 100% vegetarian.

Special Instructions:

It is advisable to consult your physician before you start using the product in these situations:
- Pregnancy
- Breastfeeding
- In Conditions which require special medical care
- Specific contraindications have not been identified.
- Please consult your physician if symptoms persist.

Directions for Use:

- 1-2 tablets twice daily or as directed by your physician.

Benefits:

Facts derived from Ayurveda texts and modern research:
- Triphala provides a gentle pro-kinetic effect on the bowels and helps relieve long-standing constipation.
- The active constituents derived from three fruits exert strong antioxidant effects and promote bowel wellness.
- Triphala relieves abdominal bloating and belching by soothing and calming the intestinal walls.
Key Ingredients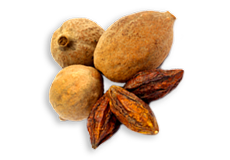 Triphala
It supports normal detoxification of the bowels and aids normal bowel movements.